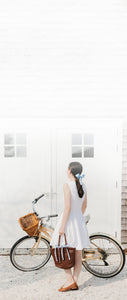 Carly x N&c
"Neely & Chloe handbags have been some of my very favorite wardrobe staples for years and years. Their classic, functional silhouettes are thoughtfully designed to be worn for all kinds of occasions. It was a dream to add my own personal touch to my go-to pieces from N&C (and extra delightful to add new designs to their lineup). For me, blue and white is a warm-weather neutral. This collection takes the pretty and practical pieces the brand is known for and adds summer-ready stripes for a decidedly CARLY twist."
- Carly
carly's take on
The everyday Tote
"I'm all about a practical tote that can get you everywhere you need to go with everything you need. It's a bit of a pick your own adventure with three sizes. Bring everything you need with the Large Everyday or just the essentials with the Micro. (Also a great matching moment with your mini me.)"
Shop Now
CARLY'S TAKE ON
THE DIAPER CARRY ALL
"This insert is the quickest way to turn your favorite tote into your new go-to diaper bag. An organized mom's dream!"
Shop Now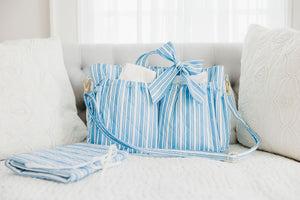 CARLY'S TAKE ON
THE CHANGING PAD
"Sometimes you're just not in the right place at the right time. For quick changes on the go, this changing pad is ready to get you and your bebe back in the game!"
Shop Now
CARLY'S TAKE ON
The Woven Leather Tote & Insert
"Inspired by a favorite sewing project I completed a few years ago, this insert adds a little bit of extra personality to the chic (yet practical) woven leather tote. Tied with bows, it's utter perfection!"
Shop Now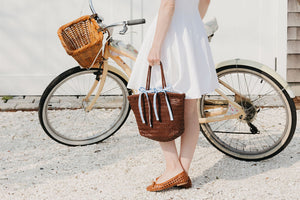 CARLY'S TAKE ON
The Large Flat Pouch
"The pouches keep your essentials organized wherever life takes you. They make switching between your favorite bags a breeze– bring yours to the pool by day and then carry it on its own by night!"
Shop Now
CARLY'S TAKE ON
THE SCALLOP CARD CASE
"Sleek and slim and scalloped! The card case is the cherry on top for this collection!"
Shop Now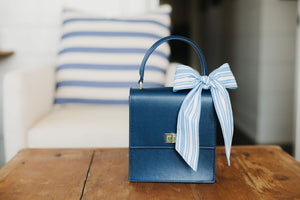 CARLY'S TAKE ON
THE TWILLY
"A double-duty finishing touch. The Twilly pairs beautifully with the signature Lady Bag or elevates your summer ponytail."
Shop Now